Grow your own – top tips for gardeners
Food | Sustainability | Lifestyle
You can't get more local or any fresher than food picked directly out of your own garden. Not only will it taste delicious, you've had the enjoyment of nurturing it and you have the satisfaction that you grew it.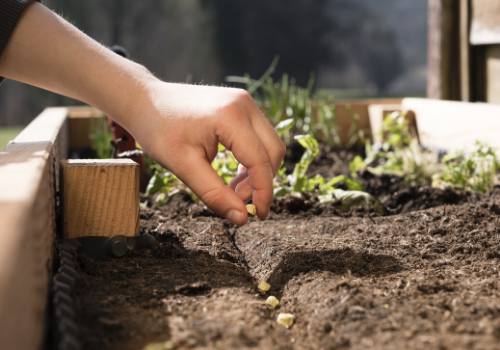 Sounds lovely doesn't it, but where do you begin? Some produce does require more space and attention than others. We've picked five household favourites below to get you started, hopefully there are at least a couple that you can have a go at growing in your available space.


Courgette

Courgettes are easy to grow and a great thing about them is you get lots from each plant. If all goes well (fingers crossed!) you can expect 3-4 per week! They do like to spread out, up to a square metre, but they can grow happily in large pots or growbags if you don't have much space.

If you're planting them in May or June, when the weather should be a little warmer, you can plant them outdoors where you want them to live. Otherwise start them indoors. From seed, sow 2-3 seeds 1 inch deep in the soil and cover with a jar (of any sort). Leave them there for at least two weeks to give them a strong start.

If you're using a standard sized growbag you can grow two plants in here, if you are using a pot, stick to one per pot.

Courgettes are thirsty! They will need regular watering. Try not to get water on the leaves.

Rocket

Rocket is easy-to-grow and can provide you with a constant supply of healthy, peppery leaves. You can grow it in pots, growbags or in the ground.

For a constant supply, sow seeds every 2-3 weeks between April and September. Rocket does like to be in a sunny position (do your best here, obviously we can't request sunshine!), it also likes to be in rich, fertile soil.

Sow the seeds around 1cm deep and 15cm apart. Keep the soil moist and weed free. Your delicious rocket will be ready to harvest four weeks after sowing. Younger leaves are milder and more tender, older leaves can be lightly cooked as a spinach substitute.

Cucumber

Cucumber can be grown in the ground, pots or growbags. They can also be grown indoors if you don't have outside space. Sowing them outside in May or June is best.

Seeds should be sown around 1 inch deep, pop a fleece or cloth over to protect them initially if it's a bit cool. Any fertile soil is fine, compost mixed in is fine too. Keep the soil constantly moist.

Your cucumber is ready to harvest when it reaches around 15-20cm.

Spring onion

Spring onions are super versatile, and a real handy thing to grow. Sow small amounts every couple of weeks to ensure a regular supply.

Sow the seeds around 1cm deep between March and September, once they are seedlings, if they are bunched up, they can be thinned to around 1inch apart. Keep the soil moist, watered and weed free.

Harvest when the plants are around 15cm tall and the bulb no more than 1 inch width.

Carrots

Carrots are best planted in an open, sunny space, but if you are short on room, they can still be successful in containers. They love fertile, well-drained soil. If your soil is stony or full of clay, a pot might be a better choice.

The main season for sowing is April-June. Sow them 1cm deep and approximately 5cm apart. Carrots don't need a lot of water, but if weather is particularly dry, give them some. Keep their space weed-free.

Your carrots will be ready to harvest around 12-16 weeks after sowing. Pick as soon as they are large enough to use, don't let them overgrow.


Are you ready to discover your green-fingered side? Let us know how it goes, we'd love to see! Tag us proudly on Instagram as you show off snaps of your own produce.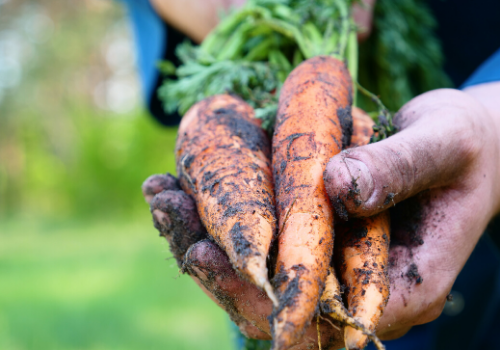 Published by Lock29 on