Lock29: Bringing the canal inside.
Community
Lock29 is located on the historical Oxford canal, and is named after the lock next to which it resides. It would not suffice for the only tribute to the heritage and industrial roots of the canal to be in the name. Lock29 will pay homage to the canal and the community in all that it is as a destination.
The Oxford canal was completed in 1790, and became a main artery of trade between the Midlands and London. The site of Lock29 is a significant point on the canal that connects Bedworth, Banbury and Rugby.

Centuries later, Lock29 wants to proudly keep this heritage alive and celebrate the industrial roots and community benefits of the canal. The canal made connections possible and Lock29 will do the same.

More detail on the history of the canal can be found in this blog https://www.lock29.co.uk/journal/trading-on-oxford-canal.

When designing work began for the Lock29 brand, everything from the logo to the inside appearance needed to nod towards the story of Banbury's diverse history. It has an edgy, modern feel but with an industrial vibe. We want you to picture the logo out in the rain, working to be seen. Still able to be there for centuries to come, though looking more weathered.

Everyone is welcome in Lock29, it is a destination for the whole community, so it was vital that the design of it appeals to all demographics. We want you all to share our space and feel excited by it.

Raw elements of the canal form the brand of Lock29. Within the brand is an eroded font with iron oxide backing ('rusty metal' to a hard-working ferryman shipping coal along the Oxford Canal). The logo references the original lock numbering plaques, which have helped people on towpath and on water to navigate for centuries.

The interior compliments this, capturing the sweat and determination of the local area, of a community grafting to work together, of people trying to make a living and helping neighbours.

Inside, everything from spatial layout to fittings and decoration has been developed with the varied, bold and vibrant elements of the canal in mind.

The canal on close inspection is so full of textures. The units within Lock29 will showcase these. There will be buffed and weathered steel, which can be spotted on the walkways, there will be white washed timber, remnant of the timber yards and canal side buildings. Trapezoidal sheeting, which can be found on shipping containers will feature as will traditional chunky mooring rope.

Lock29 is designed to have its own character whilst paying homage to the area. It is a destination that will grow and evolve and holds an exciting future. It will come alive when animated with community activity and local produce.

We believe that everyone should be heard, that strong communities create strong individuals and that Banbury should be uncompromisingly proud of itself, its history and the hard work of its people.

Lock29 believes that sustainability isn't an experiment.

"There is no such thing as throwing away. Everything must go somewhere."

Lock29 will further bring elements of the canal inside through items related to its history supporting coal supply, breweries and industry. Features like planters made from repurposed hessian coal sacks, recycling bins made from traditional Banbury kegs and barrels and repurposed steel drums. Signage made from salvaged metal from local industry. The stories of each item used will be told.

We want all visitors and businesses to feel empowered and welcome to help us to shape this exciting destination and work with us to contribute to a sustainable future. It wants to showcase what a brilliant community can achieve, and show that we're stronger as a community. Without the Banbury history and community, Lock29 would not be possible.
NOTE: Huge thank you to Turner Bates Architecture and Design for providing some of the content upon which this blog is based. Turner Bates are responsible for the design and architecture of Lock29.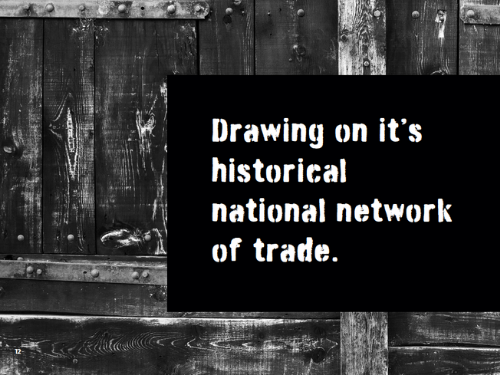 Published by Lock29 on