What sunshine is to flowers, smiles are to humanity…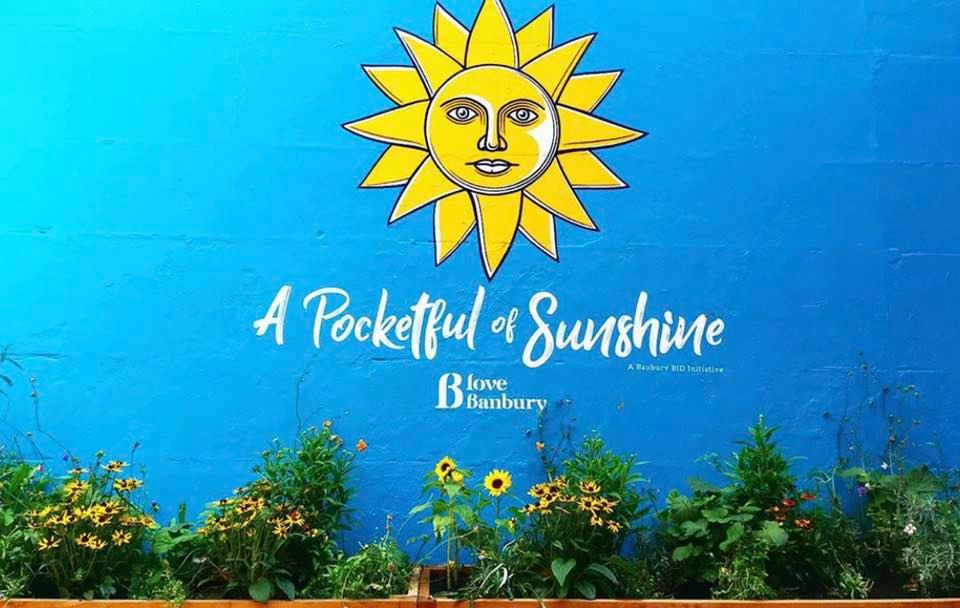 Banbury has a rather lovely emblem of a sun as an icon of the town. Sunshine has connotations of happiness, light and positivity. Everyone loves the sun, right?
You may have spotted the Banbury sun featured on buildings and structures around the town. You may have seen it leading the way in the town's first lantern parade last winter and also popping up in various artworks.
The sun is featured on Banbury's coat of arms, which was officially granted on 28th August 1951. It proudly sits above the motto 'Dominus Nobis Sol et Scutum' which translates as 'The Lord is our sun and shield'. The figure of the sun has been associated with Banbury for many years. The town's coat of arms also features a castle (Banbury Castle), crossed swords in reference to the Civil War and a lady on a white horse, in reference to the well know nursery rhyme 'Ride a Cock Horse to Banbury Cross'.
The sun has been proudly adopted by organisations in the town, including Banbury Business Improvement District (BID). In 2019 the 'Pocketful of Sunshine' installation was completed on Church Lane in town, transforming a previously neglected space into a bright, cheery spot featuring a large sun mural and plenty of wildflowers.
The BID also launched an initiative to reduce plastic waste through a limited edition 'Little Bag of Sunshine' reusable shopping bag.
Banbury has a rich history and many fascinating stories. It is known for many things including the canal, its market and the Banbury cake. The sun is a part of its history too, a part which remains visible around the town still today.
The sun emblem is a reminder to always remember that no matter how grey the skies look, the sun is still there, waiting to shine again.
Next time you're out and about in town, how many nods to the Banbury sun can you find?
Published by Lock29 on