Tom's Diner's A-Z: E is for Edamame
Welcome to Tom's Diner's A to Z of all things plant based. This week we bring you … the letter E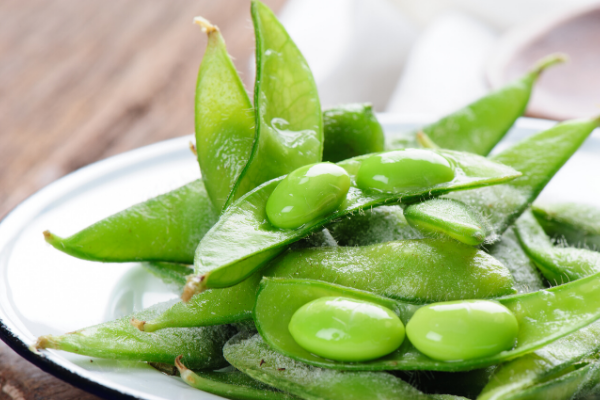 E is for…. Edamame!
Edamame are immature soybeans, and in restaurants they are usually served warm and still in the pod. These lil' beans are young and green when they are picked, and are soft and edible even when raw, not hard and dry like mature soybeans which are used to make soy milk and tofu.

Despite being one of the most widely grown crops in the world, there's still a lot of mystery around edamame—so what else can we do with them besides plopping them in a bowl?! What we do know is that they are an awesome plant-based protein source, and they are way more versatile than they are given credit for.

Right then, hands up who has got a packet of frozen edamame lurking in the back of the freezer? Own up now… it's time to get creative!

While a dip like guacamole contains healthy fats, it is still high in fat. Edamame is a surprisingly tasty and lower fat alternative, while still retaining that lovely green colour! Edamame beans are also jam packed with fibre and protein! This dip is super simple to make and doesn't require many of ingredients. I like to add some olive oil, garlic, and some seasonings and that's really all you need! We eat this dip with pitta chips and/or fresh veggies like carrots and peppers. It's a winning addition to any picnic or BBQ, makes a change from regular hummus, and you can feel good about eating it!

EASY EDAMAME HUMMUS
4-6 SERVINGS
prep time: 15 MINUTES
INGREDIENTS:
· 350g frozen edamame beans
· 2 garlic cloves, peeled
· 3 tablespoons extra virgin olive oil
· Juice of 2 large lemons
· 45g tahini
· salt and pepper to taste
· 1 tablespoon fresh basil or coriander (optional)
· pitta chips, crackers, and/or veggies for dipping



DIRECTIONS:
1. Add the frozen edamame to a pan of boiling water. Cook until tender, about 5 minutes. Drain, and reserve about 1/2 cup of the cooking water.
2. Add the cooked edamame to a food processor with the olive oil, garlic cloves, and lemon juice. Process the mixture, slowing adding in a bit of the reserved cooking water until the dip reaches its desired thickness (I used about 1/4 cup of the water). Then add in the basil or coriander (if using) along with some salt and pepper to taste. Continue to process until the mixture is smooth. Transfer to a serving bowl and serve with pitta chips, crackers, and/or fresh vegetables.

For sesame allergies, just leave out the tahini and add extra olive oil/ lemon juice.
Published by Lock29 on