For the love of bread - why freshly baked bread is the best
Food | Lifestyle
Even writing the title of this blog has got me drifting off down a daydream about the smell of freshly baked bread, all delicious, warm and buttery…. but why do we love it so much?
Preparing lunch using freshly baked bread, whether it's for a sandwich or to dunk into a bowl of hearty soup, feels so wholesome and warming. Tearing the crunchy outer layer to find the fresh, soft inside is guaranteed to raise a smile.

Whether it's a loaf you've bought from a bakery like our very own wonderful The Rustic Bakery, or whether it's been home made by yourself, there is something that feel satisfying and comforting about fresh bread, not long out of the oven. It's quite simply inviting and welcoming!

Sourdough, white, wholemeal, seeded… there are so many different varieties. Some transport you to a boutique artisan bakery on a cobbled street in France, others to your favourite café, sometimes a loaf can conjure up thoughts of a day out and a cosy pub lunch.

We could go on here with daydreaming of freshly baked bread, but there actually IS science behind this reaction.

A study was conducted at University College Dublin by their food scientists. As a part of this research 1000 people were surveyed. The results found that 89% of the participants said that the smell of bread made them happy, with 63% saying it evoked happy memories. Bread prompts 'odour-cued memories' at a subconscious level – we don't even realise it but these smells can take us back to moments in our childhood. Bread has long been a staple for many childhood meals which is why it can evoke such comforting, strong memories and responses.

The smell of bread is loved universally. It is eaten all around the world. There are endless different recipes, types and no right or wrong with what can be added if you're making your own. Freshly baked bread is also healthier as it usually has no preservatives or additives.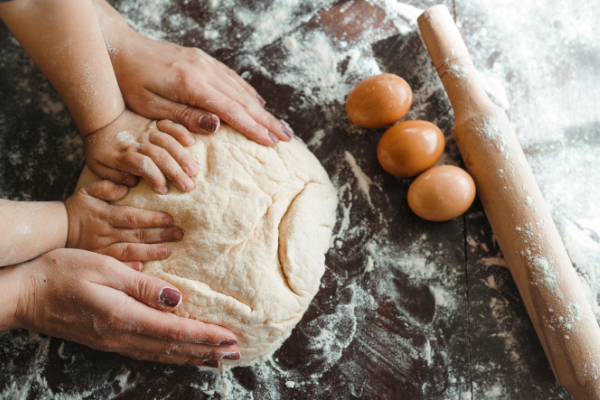 Why not give making your own a try with this BBC Good Food basic recipe? This is the traditional way, but if you have a bread-machine, it will be even easier!

Homemade white bread.
Preparation time: 20 minutes
Cooking time: 25 – 30 minutes

You will need:
500g strong white flour, plus a bit extra for dusting
2tsp salt
7g fast-action yeast
3tbsp olive oil
300ml water

Here's how:

1. Mix 500g strong white flour, 2 tsp salt and a 7g sachet of fast-action yeast in a large bowl.
2. Make a well in the centre, then add 3 tbsp olive oil and 300ml water, and mix well. If the dough seems a little stiff, add another 1-2 tbsp water and mix well.
3. Tip onto a lightly floured work surface and knead for around 10 mins.
4. Once the dough is satin-smooth, place it in a lightly oiled bowl and cover with cling film. Leave to rise for 1 hour until doubled in size or place in the fridge overnight.
5. Line a baking tray with baking parchment. Knock back the dough (punch the air out and pull the dough in on itself) then gently mould the dough into a ball.
6. Place it on the baking parchment to prove for a further hour until doubled in size.
7. Heat oven to 220C/fan 200C/gas 7.
8. Dust the loaf with some extra flour and cut a cross about 6cm long into the top of the loaf with a sharp knife.
9. Bake for 25-30 mins until golden brown and the loaf sounds hollow when tapped underneath. Cool on a wire rack.

We'd love to hear how you get on if you give it a go! If you don't fancy baking your own, The Rustic Bakery here in Lock29 have a wonderful selection of freshly baked bread and pastries, freshly baked every morning.
Published by Lock29 on