Lock29 is a sustainable community destination that will open on Saturday 29th August 2020.
The venue will feature diverse and exciting food and drink artisans, a casual pop-up cinema for secret cinema clubs and educational activities, space for events which will be open to the whole community, and an edgy independent retail offer that binds it all together. Lock29 is your destination, a completely unique creative space that will pay homage to its hometown, whilst reaching out to visitors from far and wide.
Lock29 started life as a vision to breathe new life into the canal side destination and rethink a critical, abandoned space with such creativity that the benefits for the community will be immediate. The diverse offer within Lock29 will provide something for the whole of Banbury and beyond.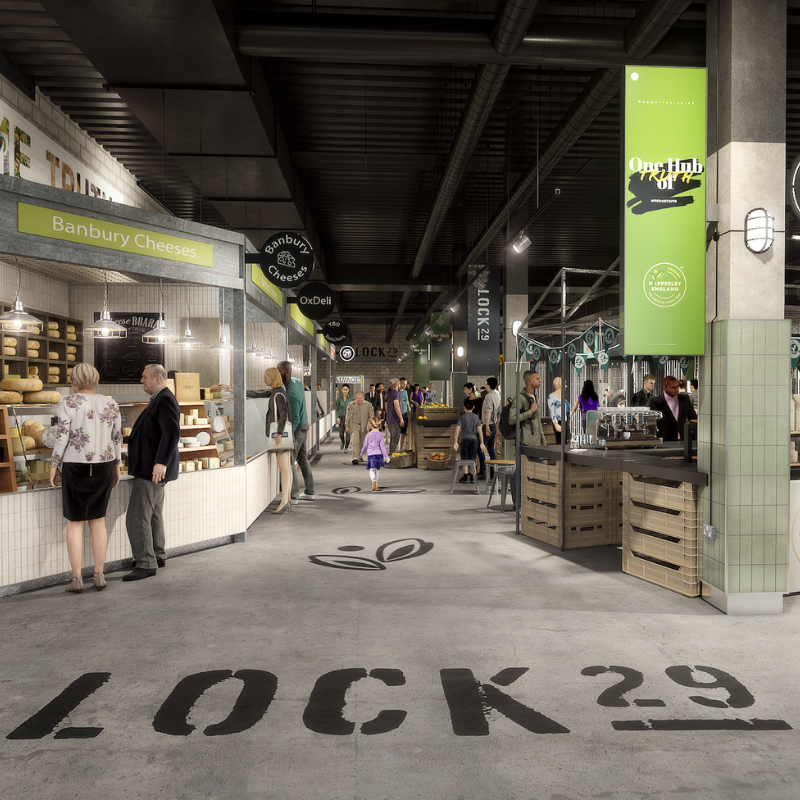 Open daily from 10am - 9pm.
What will this look like?
There will be 7 street food units, a coffee shop, a bar, 4 deli units including artisan bread and cheese, a butcher and so much more. Visitors will get to enjoy local chefs running pop-ups, workshops with the producers and seasonal food demos. Come hungry and leave inspired.
Lock29 is more than just food and drink. Lock29 is a community destination that will showcase outstanding talent from the region as well as providing a space for events, live music, workshops….. For, as well as a flexible events space in the heart of the Lock29, there will also be a boutique cinema to enhance the cultural experiences on offer here in Banbury.
Lock29 is proud to be the home of Happerley England - the National Centre of Food and Drink Provenance. Happerley England will become a hub to engage England's finest producers with those who truly value food and drink provenance.